How a New Access Control System Integration Saves Wake Forest University Staff 15 Hours Every Day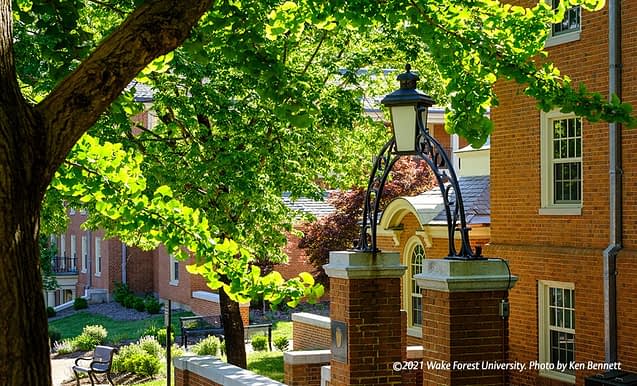 BACKGROUND
In 2016, Wake Forest University President Nathan Hatch set a goal to maximize use of the campus's 18 academic buildings and three million square feet of space. The key to achieving this goal was providing students and faculty with the ability to reserve classrooms and meeting spaces for extracurricular activities.
However, the university quickly found that without the right technology, the process was taking a toll on the time and resources of its administrators. To make the most of campus space–while ensuring it remainedsecure–and to free staff time for more pressing priorities, the university neededa new approach. First, they needed to reevaluate the utilization of their accesscontrol system.
IDENTIFYING CHALLENGES
At the time, department administrators were scheduling more than 100 room reservations a day. With the existing events management system (EMS), they had to coordinate distribution of brass keys or schedule unlocks for rooms with card readers which also created opportunities for error. Additionally, the access control office and department administrators were receiving after-hours calls when problems with scheduling occurred.
These challenges illuminated the need for a new solution that would enable a more seamless, automated process for reserving and accessing university spaces.
However, when exploring solutions, the university had to account for some prohibitive factors. First, many of the buildings on campus were constructed in the 1950s. To maintain their historic integrity, they needed a solution that would minimally impact the existing infrastructure and limit installation construction–a challenge that many electronic access control solutions cannot solve. Further, the university was mindful of cost and wanted a system that could integrate with their existing systems.
FINDING THE SOLUTION
After some exploration and conversations with partners, Wake Forest University determined ASSA ABLOY's Aperio® wireless access control locks along with Detrios' DAX software application were the solutions they needed. Together, these two systems achieved all of the university's priorities–it was cost-effective, integrated with existing solutions, minimized construction, and most critically, provided an efficient, effective way for campus spaces to be reserved and accessed.
The system works by allowing faculty and students to reserve rooms independently through the university's online platform. Administrators can then quickly and easily review and approve the reservations online. They can also remotely provide room access to the appropriate student or faculty member via their ID card.
Prior to the implementation of this system, Students, faculty, and staff received new HID ID cards, which work with the Aperio locks that were installed on more than 230 doors at the university. Equally important, the new HID ID cards worked with the 350 Wiegand locks the school already had in place across campus. This meant the university did not have to replace the existing locks, which saved time and money, and reduced construction.
Because the Aperio locks connect wirelessly to the university's LenelS2 OnGuard® access control system, the construction that was needed to install the system was minimal. Many of the university's classroom doors include glass and aluminum, which can make it hard to wire for an electronic lock. However, Aperio locks use wireless communication to connect with the access control system, which made it possible and easy to install the locks on all the designated openings, regardless of their materials.
RESULTS & IMPACT
With the new integrated system, the room scheduling process was reduced from 10 minutes to mere seconds per reservation. In five months, it has saved administrators 557 hours, or 15 hours per day. The saved time has allowed administrators to tackle important technology projects that had previously taken a back seat to reservation management, including developing an asset management inventory system, transitioning the university's video management system and rebuilding their service platform.
During the COVID-19 pandemic, the university discovered additional utility from the new system. When shelter-in-place mandates took effect, administrators could remotely manage campus spaces, even halting access to certain rooms entirely to ensure the safety of students and faculty living on campus.
As more students and faculty have started returning to campus, administrators can continue remotely and meticulously managing room access to ensure adequate time between uses for cleaning.They can also manage how many people have room access with their ID cards so that the number of people in a space at the same time remains low and in compliance with health guidelines.
The automation of the technology also allows administrators to maintain a controlled window of access to spaces, providing an additional layer of security that was not previously possible. For example, with the system's easy-to-use start/stop function, the integration gives students or faculty access to the room 15-minutes prior to their reservation, and then automatically removes access as soon as the reservation is complete.
This article was written and originally published by Assa Abloy.
Original link: https://www.assaabloydss.com/en/resource-center/case-studies/education-facilities/how-a-new-access-control-system-integration-saves-wake-forest-university-staff-15-hours-every-day
WSS Integrated Technologies is a proud partner of Assa Abloy.