Talkaphone Case Study – Chicago O'Hare Airport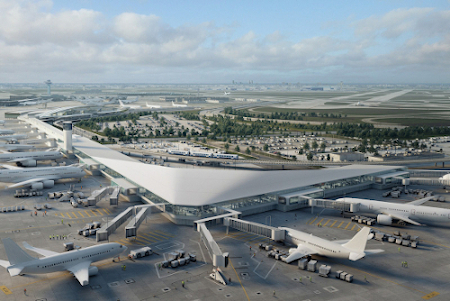 Executive Summary
Chicago's O'Hare International Airport is the second busiest airport in the nation with a strong international presence, flying to more than 60 foreign destinations. O'Hare has been voted the "Best Airport in North America" for 10 years by readers of the U.S. Edition of the Business Traveler Magazine and the Global Traveler Magazine. Being an example of customer satisfaction excellence means thinking outside the box when it comes to customer interactions.
Talkaphone Solutions
O'Hare International was the first airport in the U.S. to install the Talkaphone's Map Unit, which features a large 3D projection of the terminal parking lot enclosed in the tamperproof stainless steel enclosure and is equipped with a built-in single-button ADA compliant assistance phone. There are thirty-six Map Units installed in the O'Hare's parking garage, one for each set of elevators throughout the six floors of parking space, giving travelers a comforting sense of security and a way to talk to a live person in case they are lost or having car problems.
The Map Unit serves a dual role: on one hand, it provides visual information about the parking garage to O'Hare travelers, who are also able to push a single button and get connected to a customer service representative for assistance. On the other hand, the ADA-compliant Emergency Phone inside the Map Unit can be used for emergency situations: once the emergency button is pushed, the blue light strobe mounted above the map unit starts flashing, distracting a possible perpetrator, while the security personnel is able to assess the situation through an embedded CCTV camera.
Another application of Talkaphone's technology at O'Hare was implementing hands-free assistance phones with audio message boards into automated ticketing stations where cars enter the garage. If there is a jam or some customer is having troubles dealing with a ticketing station, a warm welcome message is automatically played and the airport staff is notified of a problem.
The O'Hare International Airport adheres to the policy that small gestures do count when it comes to customer satisfaction while going an extra mile to protect its travelers. O'Hare chose to install twenty Talkaphone Emergency Phone towers, all of which are topped with blue light strobes and strategically placed throughout the remote parking lot, providing a reliable two-way communication solution between security authorities and visitors.
The familiar always-lit blue light atop Talkaphone's towers provides comfort to passers-by, who know that help is only a push of a button away and that a million candlepower strobe is activated the moment an emergency call is initiated, attracting attention to the scene and deterring crime.
Visibility of the Emergency Phone towers was a critical issue at the O'Hare's remote parking lot due to a fleet of shuttle buses scheduled to pick up visitors on a regular basis from various bus shelters. To solve the problem, all towers were customized two feet taller than the standard unit. Elevating the blue light strobe above all traffic on the parking lot guaranteed its visibility at all times.
Each one of the twenty installed towers also came equipped with a custom spotlight, enhancing the illumination of the area around the tower. This upgrade made Emergency Phone towers highly visible and accessible during the nighttime while giving security personnel a clear situational awareness of the parking lot through a network of densely installed CCTV cameras.
Talkaphone's line of highly customizable Emergency Phones and Notification Systems yields many benefits when utilized across multiple functional platforms and departments within the organization's boundaries. Finding new and useful ways to align technology with organizational goals while keeping the spotlight on the customer is what makes O'Hare a success story.
This article was written and originally published by Parking Today Magazine, April 2010.
Original link: https://www.talkaphone.com/portfolio-item/chicago-ohare-airport
WSS Integrated Technologies is a proud partner of Talkaphone.