Talkaphone Case Study – Seattle Central College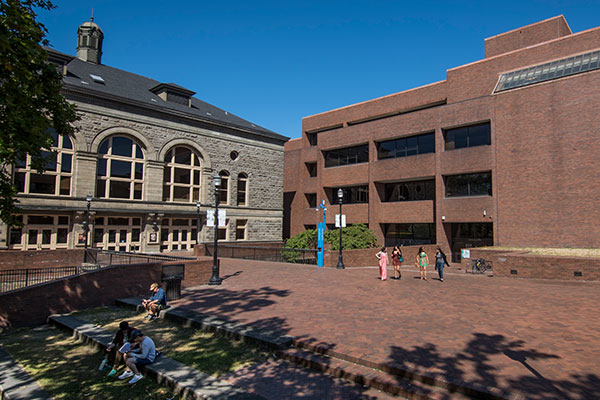 Executive Summary
Universities across the nation are making safety for their students a top priority. From installing cameras to incorporating access control and implementing blue light call stations, campus security and public safety leaders are consistently looking for ways to ensure the safety of their community.
Located in the heart of Seattle, adjacent to Capitol Hill, Seattle Central College plays host to over 16,300 students and 950 staff members. The campus experiences a high volume of foot traffic due to both their student population and the public areas, such as Capitol Hill and a city park, that surround the school grounds.
Safety Initiative
Seattle Central was looking to add an additional layer to their public safety initiative – specifically blue light call stations across the campus. They turned to Elman McClain, Director of Public Safety, for a plan. Multiple factors went into his product search. As a highly humid environment, emergency call stations and blue light stations located in the Seattle area must prevent moisture from finding a way into the unit. When water finds it's way into an emergency call station system, it can affect the integrity of its operation. Director McClain was also looking for an option that allowed him to use the blue light stations as more than housings for call stations. His goal was to incorporate the benefits of mass notification broadcasting and surveillance.
Solutions
After developing a request for proposal and completing product research, Director McClain chose the Talkaphone WEBS® MT/R Series Tower and Wall Mounts for his campus's blue light stations. Equipped with four outdoor broadcasting speakers, local mustering capabilities and optional dual-camera arm, the decision to install the Talkaphone towers was "a no brainer", according to Director McClain.
As a member of the International Association of Campus Law Enforcement (IACLEA), Director McClain has a strong background and understanding of the Clery Act as well as a passion for what it represents. "We have legislation out there that says we need to have these resources to help keep our campuses safe," he points out. Passed in 1990, the Clery Act requires colleges and universities to outline specific policies and procedures related to disseminating timely warnings and emergency notifications. Seattle Central decided to utilize the blue light call stations as a major part of communicating emergency information to their community. Regular testing of the blue light and broadcasting system is a part of Seattle Central's security process. After the first test of the WEBS® MT/R Tower outdoor broadcasting system, the director is extremely satisfied with his choice. "The speakers are extremely clear, very noticeable," he says with a slight chuckle.
Future Plans
Looking towards the future for his campus, the director envisions integrating indoor emergency call stations as well as adding additional blue light stations to the outdoor areas of campus. His goal is to expand the uses of the towers and call boxes on campus. In regards to the existing towers on campus, Director McClain is very satisfied with his current installation. "These guys are battle-tested," he states. "They are the number one we can rely on."
This article was written and originally published in: Security Management, July 2017
WSS Integrated Technologies is a proud partner of Talkaphone.