WHY COMMUNICATIONS NEEDS TO BE CONSIDERED A SECURITY FUNCTION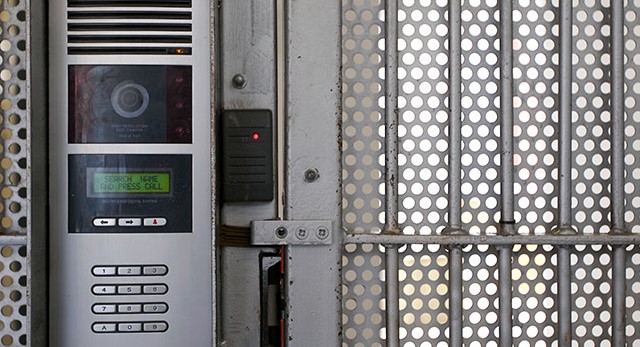 By Phil Coppola – October 21st, 2020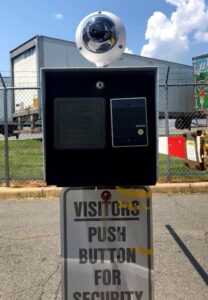 We've all seen setups like the one shown in this picture before.  You arrive at a facility, either where you work or (as I frequently do) as a guest, and you are encountered by this monstrosity.  What is this menagerie of electronic components? More importantly, how are they being used by those who manage security in this environment?
Let's start at the top.  The video surveillance camera is being used to aid in identification of the person attempting to gain access to the facility.  To the bottom left we see an access control reader.  This model is meant for long range reads of employee or other authorized credentials.  On the bottom right is an intercom substation.  This device is, as suggested by the sign, intended for visitors to use in order to "buzz" the operator at a security desk.  Finally, in the background is a lift arm, which is controlled by the same access control system that the card reader is connected to.
While this system, and countless integrated systems like this, "work" in this environment the reality is none of these devices were ever designed for this specific application.  Each of these devices are reporting back to their own individual systems, which makes the Operator the critical lynchpin for this entire set up. Even if everything goes according to plan the reality is a TON of critical data is lost to "The Ether".
Imagine a scenario where an unauthorized person was able to surreptitiously gain access to this facility by pretending to be a legitimate visitor.  After that person has left or been apprehended, a thorough investigation must take place in order to determine exactly what happened and, ultimately, how that person was able to gain entry.
In this scenario, the investigator must attempt to cobble together information from three different systems: the Video Management System, the Access Control System, and the Intercom.
What they will find is that, while there may be video evidence of the perpetrator, there is no record of what time they pressed the intercom button.  Nor is there a record of who answered the call.  What was said on either side of the conversation?  Not recorded.  Who pressed the "gate release" button and allowed the perpetrator access to the facility?  No record of that either.  There may be a record in the Access Control Log showing a "manual gate release", but you already knew that the gate was opened because you can see that happen on the video.
Too often these intercom systems are installed as an after thought.  "Oh yeah, we should probably put an intercom out at the gate (or the remote door) so we can talk to people before we let them in" is a conversation that usually occurs in a bubble with no thought as to how important that intercom is to the critical function of Security.
Of course, there is a better way.  With modern Security Software platforms, like Genetec Security Center, intercoms can be "Unified" with video surveillance cameras, access control systems and various other critical systems.  All their data can also be made a matter of record so that you'll always know:
-Who pressed the button to initiate the call?
-What time did that call come in?
-Who answered the call?
-What was said?
– And, ultimately, who released the door/gate?
All of this information, and more, can be captured by the Security Software and made reportable to investigators and management.
In addition, Intercoms and Phone Systems are now predominately IP-Based.  This allows both types of devices to be able to communicate with each other using the Security System as the bridge that brings both together.  Why do this?  Well, for simple things like intercoms, the Security Operator could transfer the intercom call to an employee's extension to allow them to speak with their arriving guest.  Or, in a duress situation, the Security System could send out a live or pre-recorded message across all Phones and Intercoms with critical instructions.
Again, in the latter scenario, where seconds can make all the difference, do we really want Security Operators fumbling between various devices to get critical information out to the personnel on property?
While often considered as an after-thought, communications should instead be considered as a critical component of any security system.  Careful thought should go into exactly which devices should be used and, most importantly, how those devices will interact with the other security devices and personnel at your site.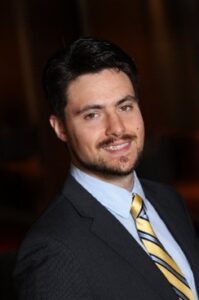 Phil Coppola is currently the New Jersey Regional Sales Manager for Genetec, Inc.  He is also the Content Creator for The Inside Track: A Genetec Podcast, and a Board-Certified Physical Security Professional by the ASIS International Organization.
Phil can be reached at:
Subscribe to The Inside Track: https://www.youtube.com/c/TheInsideTrack
Latest posts by jldellisanti
(see all)